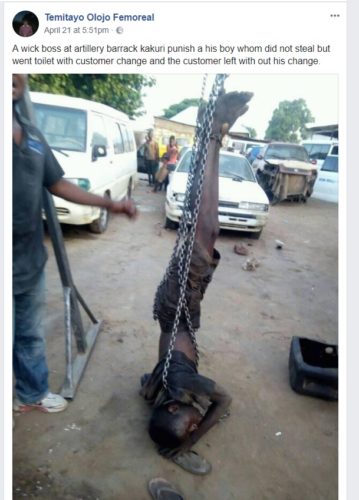 According to a facebook user Temitayo Olojo Femoreal this wicked Boss identified as Danco, just punished his apprentice over client's change in Kaduna State
Temitayo Olojo Femoreal Shared the above photo with the below caption ..
A wicked boss at artillery barrack kakuri punish a his boy whom did not steal but went toilet with customer change and the customer left with out his change.
see some reactions below;
Amaka Charity Oga bos take it easy with your boys for no one knows tomorrow ,he may be your bread winner tomorrow . He may also be your children boss tomorrow.boss what you did to this boy evil if someone do same to your child or relation will you be happh?
Sunshinebabs Michael Taryor II Dis is serious I can't blv diz… Is d boss out of his senses to do dis to his apprentice just bcoz of change na wa fah
Ejikeme P. Nwosu Temitayo Olojo Femoreal. This happened in our Kaduna? Can you get me the details of the man, address, contact and all necessary information; we will have to take legal action against him for human rights violation. We did it before, we can do it again!
Temitayo Olojo Femoreal Old artillery Barack shop D24 kakuri kaduna